We had such a great time with the three winners of our "Win a trip to CA to have dinner with Doug and Josh" Contest: Marc (a DYM Early Adopter), Johnny, and Jessica. In addition to the big dinner with Doug and Josh we threw in a few additional meals together and spent plenty of time laughing and sharing stories of youth minsitry fails with the rest of the DYM team. OK, when Chip, our customer service guru, was there telling stories, he took over the whole gathering! That guy is funny. We didn't want you to miss out on some of the memories…so here are a few photos from their jam-packed 24-hours in Orange County!
Marc and John flew on Monday afternoon and were greeted with snacks and a sign by the one and only Chip. Who, let's be honest, is the eye candy of DYM. Only the best for these DYM Members! He had to borrow a car to pick them up because we don't pay him enough to buy a good one. Sorry, Chip!
Jessica arrived just in time for a very delicious dinner at Ruth's Chris steakhouse. If you've never eaten there … like all 3 of our contestants … it will be a meal you'll never forget! Though Jessica willl tell you not to order the stuffed chicken on your next visit! We laughed together a lot, got to know each other's quirks and talked ministry and DYM, while we all ate way more than we should have. Sweet potatoe casserole was the highlight. Or pretending it was Jessica's birthday for a free dessert. Classic youth ministry move. Ha!
For youth workers, the 5 of them clean up pretty well, don't you think?!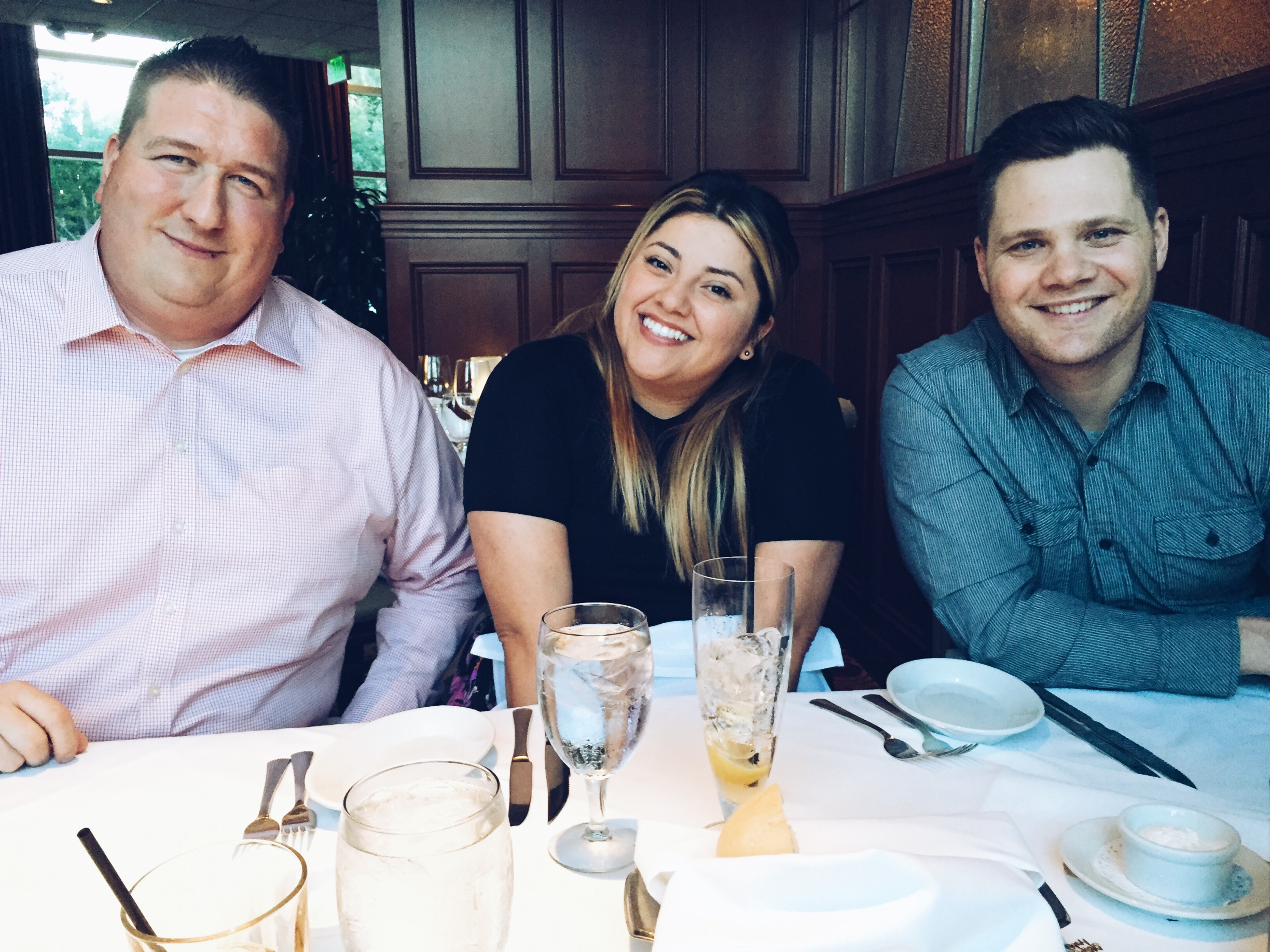 The rest of the DYM Team was a little jealous of the trip to Ruth's Chris, so we all got together for dessert. This is where the real Youth Ministry Fail stories were told. (Once you get Chip going, there's no stopping him!)
We'd eaten and laughed until our stomachs hurt, so we called it a night. As an additional gift to these youth workers, we let them sleep in just a bit and started the morning with a big breakfast catered by Chip, he's a jack-of-all-trades! (and, ladies…he's single and ready to mingle!) French toast souffle, quiche, bacon and potatoes, seasonal berries, and an orange raspberry coffee cake. Giving Ruth's Chris a little competition for best meal of the trip! Doug didn't eat much, he's one some new diet of the month club thing.
To top it all off, we ate poolside at a home overlooking a golf course. I said it before and I'll say it again–nothing but the best for our DYM Members!
After breakfast, we started our weekly staff meeting, which included a video conference with our design geniuses, Dave and Steve in Kentucky. Aside from planning this month's membership items (if you're not a member, you should be! All of our monthly items are incredible, but this month will be even more so!) Marc, Johnny, and Jessica got a sneak peek at a few of the upcoming (Top Secret!) DYM Skunk Works projects.
One last suprise for each of the winners: first pick of stacks of incredible youth ministry resources from our friends at YM360, LeaderTreks, Youthsphere, and more!
It was a whirlwind trip for these three, but we had a great time AND got them home in time for their midweek programs! We say it often, but we really do love our DYM Members. It was such a treat to spend 24 hours getting to know them, hearing stories from their ministries, and listening to the ways DYM works for them (and places we can improve!)
We wish we could fly each and every member out here for a nice steak dinner… and MEMBERS … we're cooking up some very fun plans to spend time with more of you. Stay tuned… to the blog, to the podcast, and to the weekly newsletters. Exciting news coming soon!
{{cta('c71c2919-c6cc-4654-8217-9354f0eee668′,'justifycenter')}}