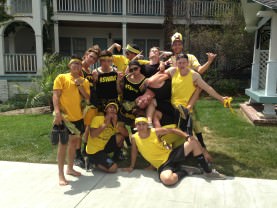 There is no other ministry job like being in student ministry.
Granted I have never worked with kids ministry. I have never worked with adult ministry. But I have friends that do and we have some great conversations about life and ministry and what that looks like on a day-to-day basis. For the most part (and I understand there are exceptions to this) student ministry has more way, way ups and way, way downs.
Let me explain.
In student ministry can you go to camp, you can get all geeked out in the team colors you have been assigned. You can lead stupid cheers and chants. You can run around a be a huge kid and just have a blast with your students. When you are all in and not too cool, your students will be all in not being "too cool". Last week at camp I did just that. I was ridiculous as you can see from the picture above. I can be a huge kid and have so much fun with our students.
Then, in a blink of an eye, a conversation turns and I am sitting there in my ridiculous get up and having such a real, gut-wrenching, honest conversation with a student because they do not feel adequate enough to live and they do not see their purpose in life and then talk with them and counsel them through what that looks like and then pray for them.
Student ministry is full of those conversations. Two extremes can come crashing in an instant and we have to wear both hats and wear them well. That's what it's all about. It is being there with students when they are all in for fun and games and it's showing students you are all in when it comes to their spiritual journeys, hard questions, real life struggles that we want to help them walk through in their lives.
It's the best. Some people freeze when they don't get that. But those who are passionate about students and seeing God work in their lives do.
We really do have the best job in the world. Praying for you all today.
Maybe send an encouraging email or text to fellow youth pastor you know and encourage them today. Who knows what extreme they are facing today.
Love that we all can be in the trenches of student ministry together.