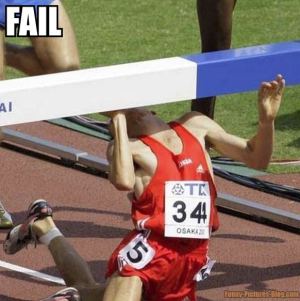 IN THE EYES OF GOD THERE ARE NO FAILURES, BUT FORCED GROWTH.
That's what we are so worried about. Failing. We don't want to fail, it makes us look bad. No one wants to fail. The idea that in God's eyes there is no failure, only forced growth, is encouraging. Every time we fail to do something, it helps us grow in some way, shape or form. Failure forces us to grow, helps us learn from our mistakes. We can take this idea in our faith journey. It is encouraging.
Are we ever going to stop messing up and failing? No, sorry. We are human and that is what we happen to do. It is what we do AFTER we fail which will define us. If we just give up, we fail. If we don't, it was just an experiment. Research on the right way of doing it. I heard this from Rev. Run of RunDMC and thought it was pretty sweet while I was attending the Catalyst West Coast Leasedership Conference a couple years ago.
He said, "Fall down seven, get up eight. That is the attribute of a righteous man. God will pick you back up if you ask Him."
James 1:2-4
Consider it pure joy, my brothers and sisters, whenever you face trials of many kinds, because you know that the testing of your faith produces perseverance. Let perseverance finish its work so that you may be mature and complete, not lacking anything.