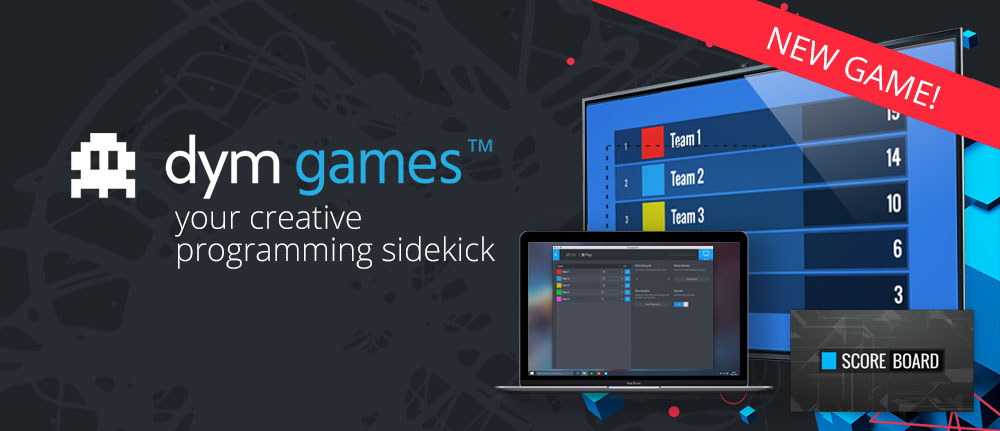 Presenting the NEWEST version of DYM Games (1.1.0)!
DYM Games is your new creative programming sidekick—allowing you to build and present engaging, reusable and customizable games that are ready in minutes and good for groups of all sizes (from 5 to 5,000!). All easily-operated from your computer.
There is a BRAND NEW Game!
ScoreBoard
A full featured scoreboard! Have one to ten teams and keep track of their scores in real time. Play in Grid mode or Leaderboad mode (where team placement is figured out for you)!
It's by far the best scoring app-based game out there today, so check it out by updating (or downloading) your DYM Games app and logging in today.
NEW Features:
Boxes, Wheel of Destiny, Pick Me
Added the ability to hide the last winning item (or person) automatically! Only have 1 snickers bar? Suzie already won? That's okay. When it's won once it disappears from the board!
Pick Me!
Added "odds"… Suzie can have 0% odds to win (like in Boxes). She will see her name, but will never get picked. This is useful for multi-round games, student's that didn't show up this week, or if you want to make sure that the new kid can win on his first week at youth group!
Everything in the app was touched. Lots of bug fixes, minor tweaks/changes as well… all for you and based on your helpful feedback. Keep it coming!
Don't take my word for it… check it out for yourself today with the free trial or download the newest version here!
JG