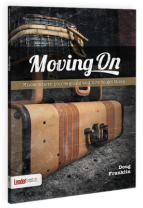 It is crazy to believe that the school year is almost over! For student leadership students, we like to give our graduating seniors a big going away party, complete with a farewell/thank you present from our ministry. Along with a few hand written notes and some other goodies, we are giving our seniors Doug Franklin's "Moving On."
This is the second year that we have given "Moving On" to our students. We love it because it is more than just a book, it is a resource. It helps students start to answer some of the big questions they have as they graduate high school and move on to the next chapter of their life. Questions like, "What should I do?" and "What does God want me to do?"
"Moving On" helps them answer those questions by walking them through the formula:
Burden + Passion + Vision= Mission
The students we gave the book to last year loved it so we are bringing it back for another run. If you want to pick the book up for your students, you can buy it here.
What are you giving your students for graduation?
Colton