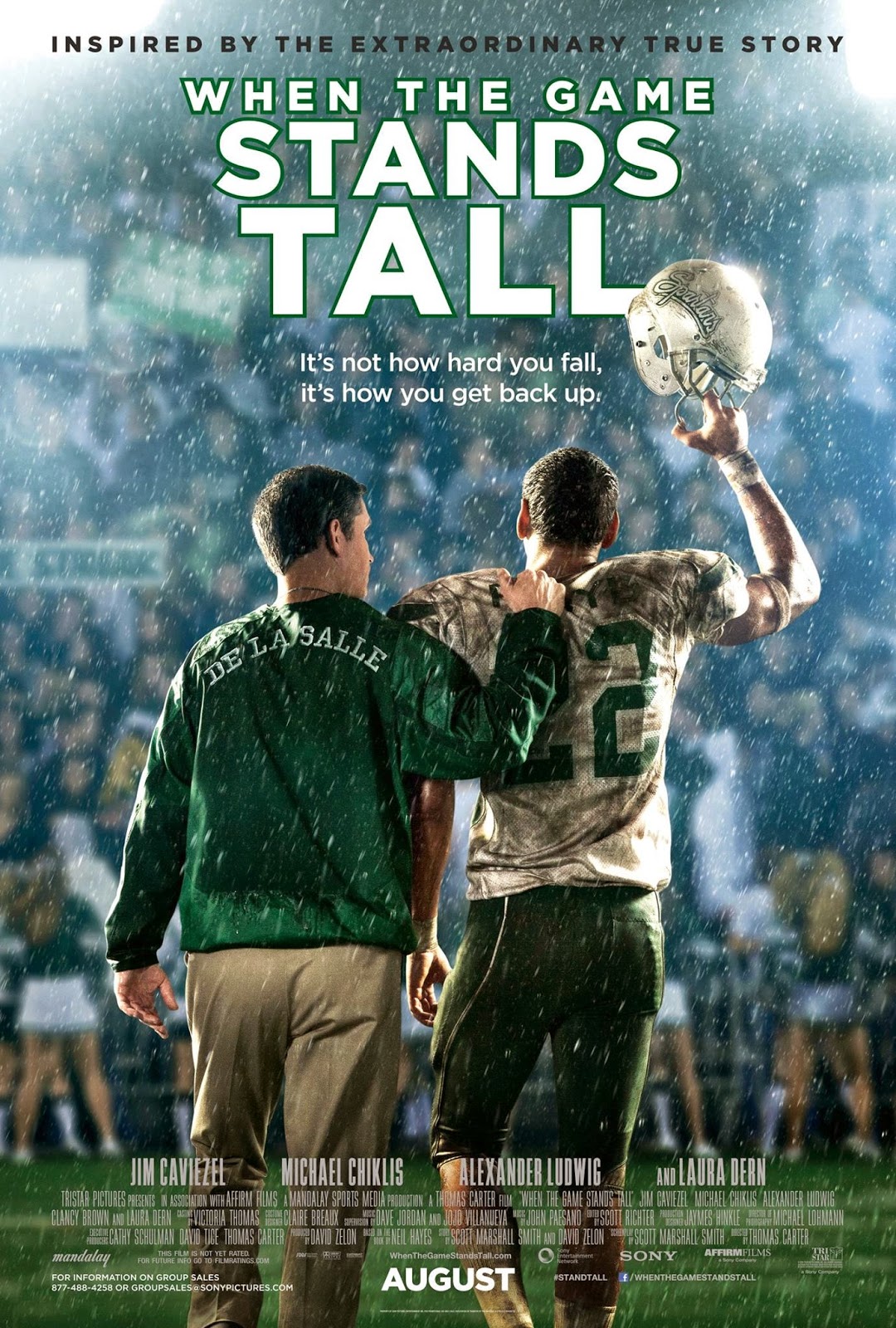 Inspired by a true story, WHEN THE GAME STANDS TALL tells the remarkable journey of legendary football coach Bob Ladouceur (Jim Caviezel), who took the De La Salle High School Spartans from obscurity to a 151-game winning streak that shattered all records for any American sport. When the streak is broken, and tragedy strikes the team, Coach Lad must teach his players – and the entire town – that it's not about how you fall, but how you get back up.
MOVIE REVIEW: When the Game Stands Tall
MPAA RATING: PG for thematic material, a scene of violence and brief smoking
OPENS: August 21st (select) August 22nd (wide)
DYM'S REVIEW: 5/5 stars
I really, really love this movie!
I played football in college – OK, let me clarify that for the record a little. I got destroyed my freshman year, learned the game my sophomore year, got some solid playing time my junior year then blew my knee my senior year. But I understand the game, played the game and love the game. This movie is a great football movie, and athletes and teammates will appreciate it the most without a doubt. But football, even the historic undefeated run and consecutive national championships, are just the vehicle for a film that strives to teach all of us more about the game of life than the game of football.
The movie stars Jim Caviezel, Alexander Ludwig (aka that one guy from The Hunger Games) and a really great Michael Chicklis who steals several scenes as assistant coach Terry Eldson. By the end of the movie you'll know Beaser, Mickey and Buster Matthews all too well. The movie jumps right into the action, and the action looks great since all of the football was choreographed by the team behind Friday Night Lights. Really good stuff!
THE BEST FAITH-BASED MOVIE YET
The movie isn't overtly "Christian" but has a clear, faith-based message. The coaches are Christian but not perfect and also not afraid to stand their ground. They are human but have deep-seated values held firmly in place. Christians will enjoy seeing what a dedicated life looks like, and non-Christians will be challenged on how a genuine life of faith could change things. Christians are displayed as real people and even the coach has weaknesses and temptations he struggles with through the journey of the movie. Thankfully the movie never gets "preachy" in any way, yet is straightforward with the message: these players, coaches and parents are different because of their faith in Jesus and their Christ-like love for each other. In fact, I would hesitate to call it a "Christian film" and just say it is an inspiration true story of faith and football and let it stand on it's own.
TAKE YOUR STUDENTS TO SEE IT
This is a great movie to go see as a youth group. The PG rating is earned but there is nothing offensive or even distracting from the clear messages in the film. This is a student-friendly movie, I know of a bunch of friends that are taking our youth group to see the film opening weekend and encouraging their local coaches and teachers to do the same. You could even take your whole youth group to see When the Game Stands Tall – I promise it will help bring up great conversations about life and faith. I brought my younger kids and they all walked away with learnings about faith and life.
IF YOU BUY TICKETS, THEY'LL MAKE MORE
These are the kind of movies we need to get behind. If you want more good stuff to come out of Hollywood, put your box office behind it. Beyond just the economy of the movie industry – this is a film you should have your own children see. This is a film young athletes should see. This is a film for dads to bring their kids to help cement values in their home. When the Game Stands Tall is an inspirational movie that needs to be on your must-see list for the fall. And if you see the movie on opening weekend, it sends a statement that more and more of these films need to be released.
DOWNLOAD DYM'S OFFICIAL MOVIE DISCUSSION STARTERS

We got to see the film a few months ago in a rough cut and wrote a special downloadable companion guide to the film to help create great discussions around the film's message. We're proud of this tool and excited to see it downloaded thousands of times already. You can get the
DYM Conversation Starters
here and
other great tools for the movie here
.
SUMMARY
In short, I loved this film. Everyone in the DYM office loved this film. We're thrilled to see a movie of this quality with an incredible story and A-list actors wrapped up in a compelling package. We're big fans of When the Game Stands Tall – go see this movie! In theaters THIS weekend!
JG
PS: Be sure to Stay for the credits … seeing the actual footage of the coaches and players from De La Salle in the first few minutes after the film ends is fantastic. Totally pulls the whole movie together, even made me tear up a bit.