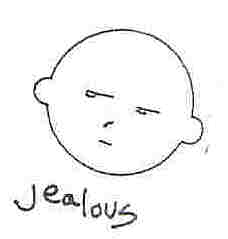 I'll be the first one to admit it. I get jealous of other pastors or ministries. I'm human. There are other people who are just better at speaking than me, who are more creative than me, and you see it by how many people follow them, listen to them, show up to their events or services. But pastors cant get jealous of each other right? How does one combat not getting jealous of other ministries? Here are some things that I have to check myself on.
Jealousy will make a person lose focus. When you are jealous, you are focusing on someone's else's God-movement and not focusing on the one that God has given you. It causes us to loose sight of the responsibility that God has given us when we focus on someone else's. I know for me, if I were to focus on what my ministry as much as I spent watching someone do theirs, I probably would do better myself. When you get jealous, your path is set by THEM rather than the Lord.
Admit it. There is no use of hiding it. Why? Because we know we're in it for God's Kingdom, not for ours. Does it matter if the church down the road is bigger, better, more influential if God's Kingdom is advancing? Let's just call it like it is, it is sinful and worldly. It is usually out of our own spirit of jealousy and it will cause us to say things and think things that are not kingdom building. Suddenly they're not our brother/sister any more, they're 'competition'.
Turn it into inspiration. Obviously you think that person is successful, otherwise you wouldn't have jealous feelings about what they are doing. Instead of sitting back and letting it happen, turn it into a learning experience. They are obviously doing something right in a way that you want to see your ministry succeed in as well. Seek them out and and take them out. Pick their brain. You never know what you can learn and maybe you will see what ever results you saw from their event at yours. If not, you have a new ministry friend and contact.
This might not be what you need. When people are jealous, it causes you to see things that your ministry may not need, but because you see "them" have it, you want it. But the thing is, a ministry might not have a strong fellowship aspect, so they try a dance party and it was a huge success for them. So you see it and you want it. But your group already has a great fellowship aspect but it really needs more people in small groups, but you dont see it because you're so focused on their needs and not your ministry's need.
When we are jealous it usually means that we are are not satisfied with what God has given us. Because when you look at what you have, you are blessed. If we are teaching the what the Bible says we need to believe that God will not forsake us (Hebrews 13:5), and we need to be content with what we have. In order to combat jealousy we need to be more like Jesus and less like ourselves. If we find ourselves to be jealous we need to in prayer and work on changing our hearts to those we are jealous of. Jealousy is such a human thing to be involved in and it has no place is Godly work.