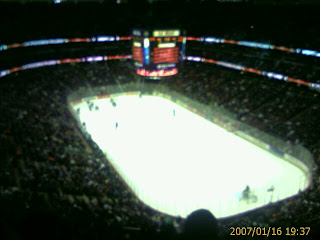 Scored a free 3-pack of tickets tonight to the Mighty Ducks game up in Anaheim. We had a blast, got there just as it was starting and watched Anaheim get pummeled. Nothing better than a dad and his boys and a night out to the ballgame.
While we were there, my kids learned several new things at the game:
My kids now know the word "sucks" – as in, "the ref sucks."
The learned how to fight each other from watching a fight on the ice. I was hit in the face 12 times while we sat there.
My kids overheard a spirited debate from the drunk guys sitting behind us that quarteback Tom Brady is most likely gay.
Lovely.
JG