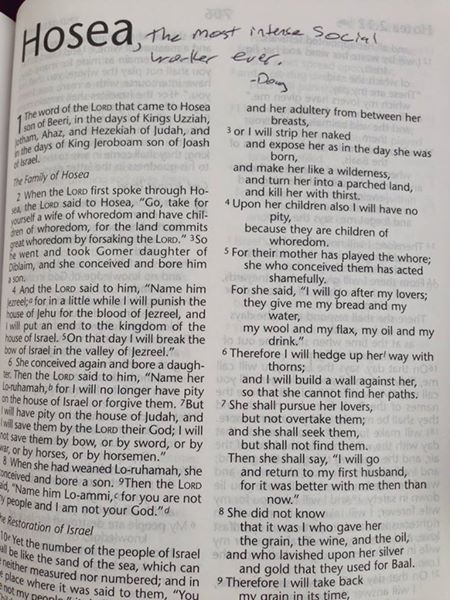 Every year around this time, I struggle with what to give our graduating seniors.
Early on in my career, I'd actually spend weeks agonizing over this. Indecisiveness would paralyze me until eventually, I'd give up and order a cheesy graduation gift from Oriental Trading.
I never liked giving these gifts and to be honest, I don't think the seniors liked receiving them. Though well-intentioned, ultimately, they were impersonal. I imagine after a short stint in a prominent place, they ended up forgotten in a junk drawer.
Knowing this, in the last few years, I've worked hard to give seniors gifts that are meaningful. Meaningful gifts are ones that are both rooted in faith and personalized. The best ones also involve others.
To that end, this year we gave our seniors a very traditional gift: A Bible.
What distinguished this Bible from others they'd received is that we personalized it.
To be clear, we didn't emboss the senior's name on the leather cover of the Bible.
Instead, we involved others in the personalization.
A few days before we gave the seniors their Bibles, I put them in our church's main office. I then invited teens and adults from our congregation, our church's staff, and our youth ministry's adult leaders to stop by and write a message in each senior's Bible.
Since I didn't want these Bibles to feel like yearbooks, I specifically asked people not to write their messages in the front of the Bible.
Here's what I asked people to do instead:
– Find a verse or two or twelve and write what you hope they'll mean to the graduate in the upcoming years.
– Use the blank space at the end of a book of the Bible to write a prayer for the graduate.
– Speak to the graduate's character in some way.
– Sign whatever you write.
Taking the time to do this was actually incredibly moving – not just for me, but for the others who participated in this process. I heard that again and again from those who annotated Bibles for the seniors.
Of course, this gift was also meaningful to the seniors who received these personalized Bibles. Perhaps even more importantly, however, this gift is one that has the potential to become even more meaningful in the future.
After all, my hope is that rather than end up forgotten in a junk drawer, these Bibles will go to college with these students. As students read them, they'll see a tangible expression of their congregation's love for them, something I hope will challenge them to find and engage in a Christian community at school. Beyond that, the personalized messages written in the pages of Scripture will remind teens of their faith, of how others see them (and in the process, of how God sees them), and of who they are and who they're becoming. And in the first few volatile weeks away from home, what gift could be more meaningful than that?