[Yo Josh, drop the beat!]
It's the first of May and we're here to say,
It's time to check your DYM Member Page.
There are nine new items for your ministry…
And they're pretty stinkin' great, so just log in to see!
Aren't you glad we create youth ministry resources and not hip-hop albums?!
Yeah, so are we.
Here are your Member Perks for May:
For GOLD MEMBERS:
It's that time again: we're pushing out another HUUUGE UPDATE to DYM Games. In this version, (1.6.0) Title Graphics are now customizable! You can now make every game your own!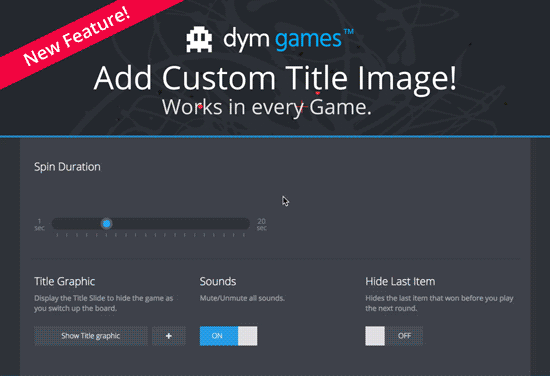 ("Boxes" doesn't have to be "Boxes"… it can be the "Random Picker of Students." "Wheel of Destiny" can be "Spin that Wheel of Disgusting Drink Concoctions." "Trivia" can be "Four-Corners Sudden Death Edition." You decide!) CLICK HERE to hear more!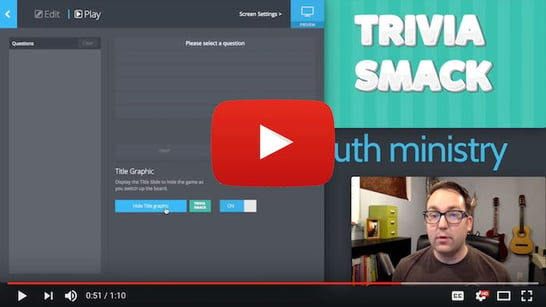 PLUS! We're introducing Trivia! With DYM Games' Trivia, you can create your own trivia game in a matter of seconds (and easily edit games on the fly!) Want to see even more?! Check it out here:https://www.youtube.com/watch?v=ERFK3di2NLI

This is just the start of the amazing features DYM Games. We can't tell you everything just yet, but let's just say… if you thought Dead Cat was a game-changer… you won't believe what's coming!
To update, all you need to do is start up DYM Games with an internet connection. You'll get a notification that says an update has been downloaded. Simply restart the app and you'll have the new version!
BUT THAT'S NOT ALL! The other NINE AMAZING ITEMS waiting for you DYM BRONZE, SILVER, AND GOLD MEMBERS! Login to your DYM account to see for yourself.
ONE: Game. Emoji Bingo. EMOJI Bingo is bingo with emojis! (We're hoping you already figured that out.) Simply print out as many bingo cards as you need and throw all the video files into your presentation software. If someone gets 5 in a row (horizontal, vertical, or diagonal), they have to stand up and yell, "EMOJI!!!!!"Check their answer and give them a prize.
TWO: Video. Love: The Opposite of Hate. This text-driven, scripture-based video challenges students to live out John 13:35 and offers a glimpse of what the world could look like if we all loved as Jesus loves us. This video could be a stand-alone element, or used as a bumper before or during a message on love, evangelism, or serving.
THREE: Mystery Download. Jesus in 140: Matthew. Whether you use a texting service, a texting app, or just post things on social media, these themed and thoughtful devotions can quickly and easily interject Jesus into the lives of your teenagers. Simply copy the 140 characters and paste it into a platform of your choice. Each text includes a thought and/or question and a shortened link to a Bible verse on Bible Gateway. Use these thoughts later in the week as points of discussion with your teenagers. See what God can do when your group is meditating on the same ideas. This volume covers Matthew chapters 4-10.
FOUR: DYM Newsletter Builder. There are several audiences who need constant reminders about the amazing events you have planned for this summer: when to sign up and where—and the dates, costs, pick-up/drop-off information… Though we all wish they paid more attention during announcements, we know that's not going to happen! Cheaper than a tattoo gun, but equally as effective—and much more parent-friendly—is the DYM Newsletter Builder. Load your logo and information and it will live on a site, ready at a moment's notice for any interested party! CLICK HERE to log in to your DYM Member account and experience the wonder for yourself!
FIVE: Mentor Me. A Conversation with Sean McDowell. Sean McDowell is an Assistant Professor in the Christian Apologetics program at Biola University and, after ten years as a middle school teacher, still teaches one High School Bible class. He believes students gain confidence in their faith when they're pushed out of their comfort zone. He also believes in—and encourages us to consider—the power that comes from creating space for students to ask questions and, even, doubt. In light of these two things, Sean offers a few practical steps we can take to help students find their way in the world of Apologetics.
SIX: Video Training. 5 Tips for Teaching in Youth Ministry.Communicating with students happens not only from 'up-front', but also in small groups, and in day-to-day conversations. Clear communication helps students connect more deeply to leaders, one another, and most importantly to Jesus. In this short, 10-minute training video, Terry Linhart, a youth ministry professor and youth pastor veteran, shares the 5 tips we as leaders ought to consider as we prepare to communicate with students.
SEVEN: Student Leadership: Communication That Connects.Students who want to grow in their leadership skills must have the ability to communicate in a way
that connects with others. But what does that look like? In this lesson, your students will look at a few examples of leaders who know how to communicate with those they are leading, as well as practice their own communication and listening skills.
EIGHT: FREE Group Texting. With DYM Text you can set reminders for dates, deadlines—even encouraging texts (*cough* don't miss this month's Freebie *cough*)—in advance! In just a few clicks you can write a week's worth of messages to your students, parents, or volunteers and then walk away and let DYM Text do the rest! Visitwww.dymtext.com. The details are on your Members Only page, so be sure you're signed in to access this.
And, finally (NINE), for DYM SILVER AND GOLD MEMBERS, your $20 Store Credit! Looking for ways to spend that $20—let us tell you about some of the great items we released in April…including resources for Graduation and Mother's Day, the Super Sexy Super Pack, and one of our new favorite games: 'Who Is It Woolly?'. Find these and more on the New Releases page! For more info on how Store Credit works, click here.
Blessings,
Doug Fields, Josh Griffin, and the DYM Team
PS: As always, we LOVE seeing your comments and how you're using DYM stuff. Please keep tagging us (@downloadym) on Twitter and Instagram so we can see DYM resources in action!