Yesterday Jim Burns spoke about "courageous discipleship" at our Student Leader Conference @APU. As always, Jim had a really strong message, but I think he left these young leaders with a very memorable image.
One of Jim's primary points was that disciples invest in others and make disciples. Then, he told stories about meeting me in 8th grade (when he was my youth pastor) and what he tried to teach me as a teenager. After talking about me a little bit, he passed me a lantern (our theme is "illuminate")… simulating life-on-life discipleship—a life that illuminates passed on to another follower of Jesus.
The other 6 of us (in this photo) did the same thing with the person we had discipled.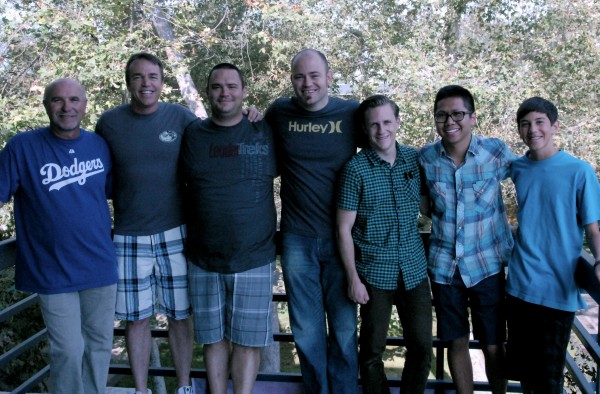 It went like this:
Jim was my youth pastor and discipled me…
I had the privilege of discipling Matt McGill
Matt discipled Jake Rutenbar
Jake invested his life into Chris Wholers
Chris loved-on and cared for Dillon Phommasa
Dillon is discipling AJ (currently a junior high student)
We all took a couple minutes to say what we learned from the person who had invested in us and what we tried to do with the person we discipled. It was a pretty memorable time.
This "legacy line" ended with young AJ saying to Jim Burns,
"On behalf of myself, Dillon, Chris, Jake, Matt and Doug…I would like to thank you Jim for making a decision to follow Christ so many years ago and understanding that discipleship requires pouring your life into others. Because you gave of your life to Doug, you started a legacy of other people who were willing to do the same. I know you've never met me Jim, but I'd like to thank you for beginning something that continues today."
I realize being a leader is difficult, and sometimes summer is most difficult (in that it's tiring), but the leadership and people decisions you're making today has the potential to impact lives that you'll never know about. I don't imagine that in 1978 that Jim Burns had any idea of what he was starting as he took the obedient steps to make disciples.