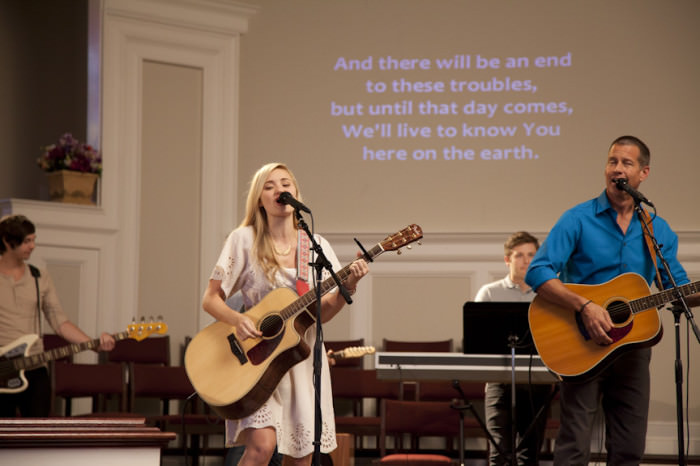 A talented young singer and aspiring songwriter's Christian faith and family ties are tested when she defies her worship-pastor father and pursues pop-music stardom in GRACE UNPLUGGED, a moving and inspiring new film that explores the true meaning of success.
I got a chance to talk about the movie with AJ Michalka, the lead acrtess of the film who plays the title character in the film and is an aspiring young actress up in Hollywood. Here is some of our discussion about her role in the new film, Grace Unplugged, hitting theaters this weekend!
Tell us why you said yes to this film.
I said yes to Grace Unplugged because I was inspired by Grace's story and growth as a believer. The story finds her really leaning on The Lord and finding faith through her own convictions as opposed to through her parents influence.

Can you share a great or unexpected moment on the set while shooting the film?
I wasn't surprised by this, but the amount of friends I made on set was amazing. Brad Silverman is a perfect example of a leader. I adore Jamie Grace, Pia Toscano and Tiffany Campbell who I also met on set. Such beautiful women inside and out. They will be lifelong friends.

How do you relate to the character you play in the film?
I relate to Grace in many ways. Mainly in the sense that we've both grown up very driven with many goals. She's trying to make it in the secular industry and my sister and I have had to make it musically as adult artists since we started so young.

I'm excited for teenagers to see the film, what are you hoping they see when they watch?
I'm hoping that this film kick starts a lot of conversation and communication between families. It's hard for a father to relate to a teenage daughter, but it's not impossible by any means. I also feel like young girls should never compromise their beliefs or morals to get further ahead. It's so important to stand firm in our faith.

You've got the eyes and ears of thousands of youth workers … what do you want to say to them?
I hope that this film can witness to believers as well as people who have no idea who The Lord is or what he's capable of. Youth workers have the most incredible opportunity to impact the lives of young people through mentoring and encouragement. I just want to encourage them to continue to shine their light and keep witnessing to those who want to listen.
Be sure to visit Grace Unplugged's official site to grab a free song download, watch the trailer and more!
Youth workers – encourage your students to see the film this weekend!
JG