I thought I would share quickly about a great resource we gave to all of our small group leaders this year. I used it last night in the small group I lead and it was such a great way to start off the night.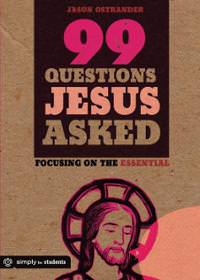 99 Questions Jesus Asked by Jason Ostrander is a great way to start off a group night. Here is a quick description of the book:
Jesus is often described as the master teacher, but when was the last time you thought of him as the master questioner or the master asker?

Veteran youth worker Jason Ostrander has combed through the pages of the Gospels in search of the most challenging, intriguing, and meaningful questions Jesus posed—and the answers behind them. The result is 99 Questions Jesus Asked, a book that will lead your students on an adventure of considering the significance of Jesus' questions and answers to their lives today.

Teenagers will find themselves sitting on a hillside in Galilee, walking the roads of ancient Palestine, and experiencing the crowded streets of Jerusalem. They'll discover that Jesus' questions remain potent and relevant today, nearly two millennia after they were first asked.

Most importantly, they'll encounter the heart of Jesus—his passion for revealed truth, fervent faith, and transformed lives.
How I used it for small group:
In the beginning of our time together we are eating, hanging out, catching up on life. It can be a struggle to go from that to right into a study. So I will be using this book to get the group in the mindset of thinking critically and thinking about Jesus. I have them pick a number between 1 and 99. Someone choices, and I will open to that question. I'll read the quick one page section that ends with a question that Jesus asks and we spend a few minutes to talk about it. We then pray and then begin the study for that night. It was so great! It was a switch into thinking and engaging the text. I'm really excited to see where this book will lead us in some other discussions.
I would recommend you get a few books for you leaders as well. Such a great, quick, and cheap tool to make the small group experience better. Click on the picture above to check it out on Amazon.