WHO comes to mind when you hear the word COURAGE?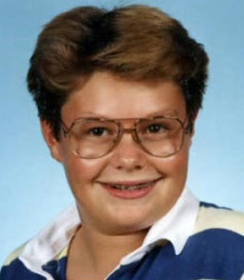 Does an image of a war hero dot your memory bank from a late night History Channel binge? Or does a close family member who has recently endured a debilitating condition alert your mind's radar? Or maybe, just maybe, does the "Potterholic" inside you believe that Harry's tenure at Hogwarts has earned him a position among the courageous?
Wherever your mind took you I would like to draw your attention to a people group who I believe is severely overlooked when it comes to the term COURAGE. If you are a youth worker you know this "species" very well. They populate your ministry bringing boundless energy as well as a pungent aroma. The species I am referring to is of course the 7th grade male.
Why the 7th grade male you ask?
Because I have been a 7th grade male! And I know the perils that result from the hormones pulsating through a young man's body. I know what it's like to wake up and discover a forest range of backne (acne on the back) that has grown overnight. I can sympathize with the young man who is attracted to anything with a curve (I mean ANYTHING: a pear, a manikin, a road). And I can identify with the man-cub who wakes up one day to find hair under one armpit and not the other (true story).
And yet despite the physical, mental, and emotional hardships these poor creatures endure they are undoubtedly some of the most courageous people on planet earth. During my years of vocational ministry I have had the pleasure of hanging with scores of 7th grade males. And during that time I have watched many of these puberty rich boys exhibit the kind of Christ-like courage only the most devoted disciples exhibit. For example:
I have seen a 7th grade male filled with the Holy Spirit stand up on a lunch table and preach the gospel to his entire school.

* I have seen a 7th grade male hold his mother's hand and mourn as she watched her husband and his father slip into the next life.

* I have seen a 7th grade male lead a group of high schoolers in prayer for a homeless man.

* I have seen a 7th grade male stand in the gap for a homosexual friend who was being bullied by "Christians."

* I have seen a 7th grade male use Xbox Live to lead their a stranger to Christ.

* And I have seen a 7th grade male boast in the Lord when his buddies boasted in their sexual conquests.
Now maybe like me you've held an inferior view of this species before. Maybe like me you've written them off as annoying and/or smelly. Maybe like me you've had the 7th grade class from hell. But maybe, like me, you've also bore witness 13 year old males who have provided a extreme examples of what it means to live courageously for Christ.
"Don't let anyone look down on you because you are young, but set an example for the believers in speech, in life, in love, in faith and in purity."- 1 Tim 4:12

QUESTION: What courageous examples are your 7th graders setting?
Rory Eldridge is the Student Ministries Pastor at Overlake Christian Church, a very cool church in Seattle, WA. You can read more about Rory here.