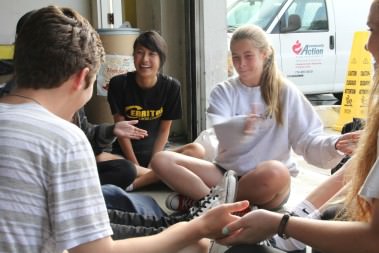 A meal is in my mind the best way to get together. Whether it is family, friends or students, nothing beats gathering around a table to share food, and friendship.
This is the second blog post in a series on mentorship. Author Sharon Parks shares there are three key practices to having a healthy mentorship community, Hearth; Table; Commons.
The table is a place in which we share, we wait, we are grateful and we talk. We gather around a table to be nourished.
When my wife and I choose to get together with friends, we often do it over a meal. Whether it is in our home or out for dinner, gathering around a table is so much fun. We often find ourselves sitting for hours on end just talking and laughing.
The same is true of my youth ministry. When I invite students to an event that has food, almost always they show up hungry and ready to participate. Now sometimes this can be an expensive ordeal: I had 4 graduating students and 2 leaders over for dinner and they ate 16 burger, 2 bags of chips, 3 heads of Romaine (Caesar Salad) and 2 bags of fries. These guys could eat! But as we ate and after we just sat and talked. It was a disarming time when we talked about conflicts with family, longing for knowing what to do as school wrapped up and how our personal spiritual journeys were going.
The table gave us a place to be nourished physically, emotionally and spiritually. Everyone felt a sense of belonging around the table.
A sense of belonging is not a feeling all students get to experience. For most students Middle school and High school are the toughest times in their lives. Questioning who they are, how do they fit in and where do they belong. But when around a table a student knows where they fit in! They are a participant, a member of a small community.
I think there was a lot of intentionality when Jesus used food and drink as means of teaching and communicating. It was around a table, or at a meal that people are willing participants in life together.
I think we need to learn from that. Food and drinks leverage the ability to join students together. Some may know each other, while others may not. But by the end of a shared meal, they are all participants together.
A meal also can bring a moment you may not get very often and that is silence. When the students are all stuffing their faces with burgers, pizza or cookies (or healthy option if you care about their physical bodies). They often have a more difficult time talking. And you can use these moments to speak into their lives.
Some meaningful moments in my life where around a table. Talking, laughing, listening. I would challenge you to find the same moments for meeting with students. Find some opportunities to meet around a table for a sense of belonging.
What are some ways that you incorporate the practice of table into your ministry and mentorship?
Kyle Corbin has been serving youth as a volunteer or pastor for over 10 years. He is currently the youth pastor at the Bridge Church in North Vancouver B.C. You can follow his blog at: kylecorbin.blogspot.com or Twitter: @CorbinKyle