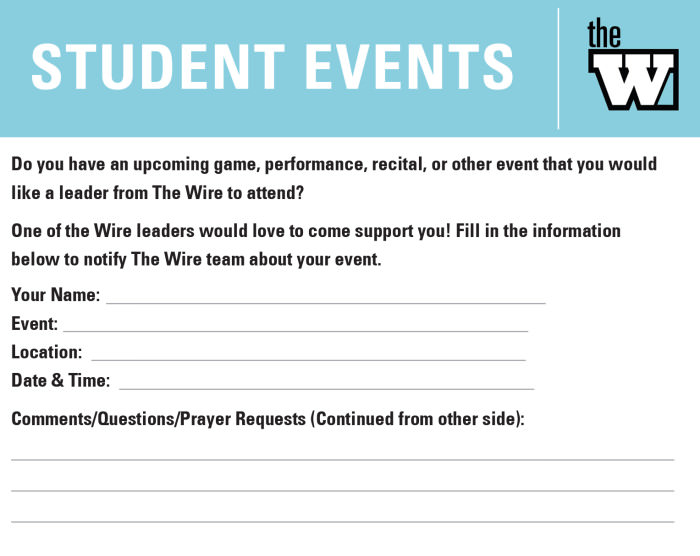 One of the most memorable and meaningful ways to impact a student is to attend a game, recital, performance, practice, or any other event he or she is participating in. Often, the trouble is tracking down the information for these events so that you know when and where to attend, especially in middle school ministry, when there are different leagues and organizations that don't typically have their schedules posted on their websites.
To help our leaders and I find out about our students' events, I created a simple tool that we call the Student Events Card. They run on the backside of our standard information cards, and we pass one out every Sunday to each student who walks through the door, and we even announce them from the stage so that students know what they are and how they can use them.
Since we've started handing these out, we've been receiving countless invites to students' events, most of them events we never would have known about otherwise. It's incredible. We even had a student invite us to her little sister's birthday party. More importantly, it demonstrates to our students that our leaders value them and support them outside of church.
I'm sure there are other ministries doing this or something similar, but I wanted to share our template with you so that you can take it and run with it however you like.
Taylor Bird is the Director of Middle School Ministry at Southwest Church in Indian Wells, CA. He has been serving in youth ministry for about four years.