Back to school kits!
We started a tradition a few years back of creating a cool back to school kit for our students each year. These kits are completely free for the students but are a great way for us to promote our youth ministry with some cool swag. Since these are "back to school" kits, we want to make sure they are full of things students can use at school – things like pens, pencils, highlighters, notebooks, notepads, erasers, and locker mirrors with a scripture verse are really simple and inexpensive. We also give each student a new "invite" t-shirt.
The purpose of the shirt and the kit is to help our students start a conversation with someone at school about church and more importantly, God. We figure that if a friend needs to borrow a pencil and sees the Element Student Ministry logo on that pen, it might begin a conversation that can frankly be hard to start otherwise. With our t-shirts, we try to write a clever saying on the front with an invitation to church on the back. This year, we are playing off the popularity of bowties, so the front of the shirt reads "A formal invitation," and the back reads "to join me at Element this Sunday night from 6:00-8:00pm at Trinity UMC."
Our students LOVE these shirts, and I can't tell you how many students have told me how these shirts have sparked awesome conversations about church and God. Below is the current back to school kit for 2014 – 2015.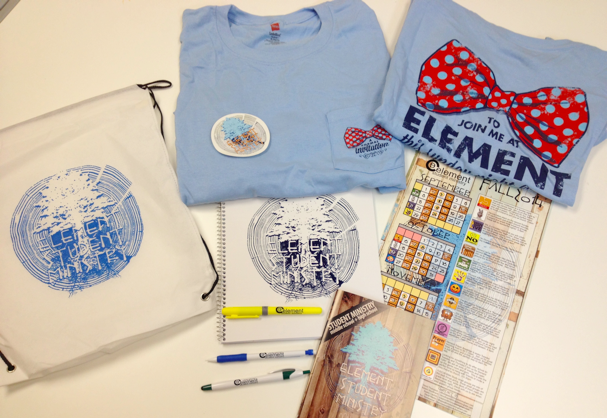 2014 – 2015 Back to school kit:
(1) Drawstring bag with logo
(1) 3" Car/Bumper sticker with logo
(1) Pen with log
(1) Mechanical pencil with logo
(1) Highlighter with logo
(1) Notebook with logo on the cover
(1) Fall 2014 Youth Ministry Calendar
(1) Youth Ministry brochure/booklet
(1) Invite t-shirt
David Thompson serves at Trinity United Methodist Church, Birmingham, AL,