Brian Berry is a 17 year veteran of student ministry. He serves as Generation Ministries pastor at Journey Community Church near San Diego, CA. where he is hands on in high school and oversees an infant-20 something staff. He writes, speaks and blogs about his life and learnings at www.briancberry.com. He and his wife Shannon have 5 kids.
Last week was crazy. More crazy than normal. Stupid-crazy in fact. One of those weeks when you have way more to do than your have resources to accomplish. The kind of week where you're going to have to stay up late, get up early, manage your time like a train station, and even then, when you're all done, there will still be tons more to do and a slew of people who didn't get their needs met. Yeah, that kind of week.
… and of course, the week when I have the most to do and no time to do it, is also the week when I told my son Tyler I would go to his all day water slide amusement park day with his 5th grade graduating class. It was a BIG deal to him, and he's a big deal to me.
But despite my commitment to be there or the intrinsic value I place on my son, I won't lie to you and tell you the choice I made was easy. Truthfully, if I hadn't actually made the choice weeks earlier, I probably would have tried to find another way around spending 9am to 6pm at an amusement park filled with 11 year-olds. After like the 10th time of Tyler thanking me for coming, I also realized that missing this event would have been the dumbest ministry move I'd made in a long time. It would have made good "business sense," but it would have been "nonsense" too.
Here's our pic after we hit all 15 water slides in the park back-to-back. His smile speaks for itself. Truth is, so does mine.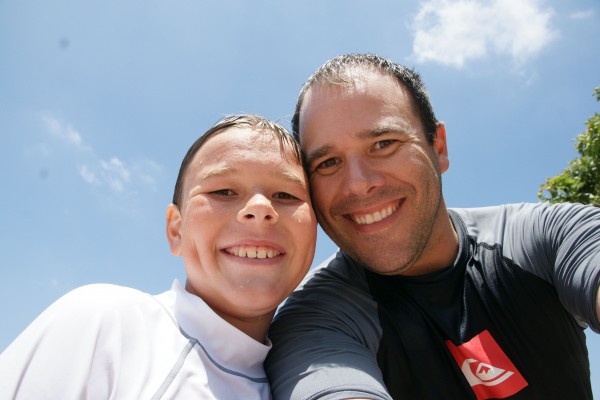 As I stared at this picture for the last few days, I was reminded there's no shortcut to parenting relationships. I can either invest in and enjoy them today or divert them and pay the price for it later. There's no way around that fact.
So from one dad to another, I know you love your kids. I also know you probably love your job. But let's not forget… almost everyone reading this blog can be hired to do our job. No one can be our kid's Dad. That is exclusively my responsibility and yours.
Perhaps these questions are worth you and I thinking about again this summer:

1• What do my actions tell my kids?

2• Are my "family values" congruent with my "ministry lifestyle"?

3• How is my digital life affecting my presence in my family life?

4• If the Dads in my church treated their secular job hours like I do my ministry hours, how would I applaud them or correct them?

5• Am I giving my kids my best time or just my available time?
Question: What is your biggest struggle in the desire to balance ministry & family. Share with others HERE.