While I'm out speaking in Korea, I've asked some friends to write some guest posts…David Peck is a friend, big-shot @ Azusa Pacific University, & an ordinary guy trying to be an extraordinary Dad
I just lost $500 and I couldn't be more excited!

I love my 15-year old son and would give the world to him. He's mostly a good kid, if he could only figure out that hard work does pay off, AND that if he plays the game a bit, things actually come together. No, not a game of sports, but the game of life as it relates to school and grades. An iPad2 was an incentive to reach high, really high and get good grades. Not perfect grades, but good for where he was at the time that we made the agreement. We set a high bar together.
My son is pretty smart (like most kids) and yet pretty dumb (like most kids). All year he played both ends of the grading spectrum. One day an A, one day an F. The next week a few F's… and then a few A's. I can honestly say that I thought he was schizophrenic. Maybe I am schizophrenic in expecting great things from him. Everyone says that he's a really great kid. I'm trying to give him goals, incentives and reasons for pursuing success, but sometimes I think, "does he really even care?"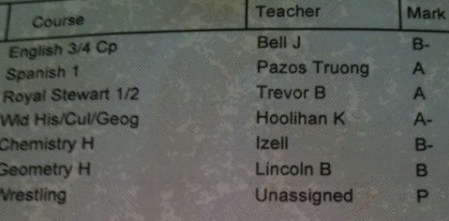 In February, his grades reached a low. With three weeks left in his wrestling season, his grades dipped below an acceptable standard. Shoot! Why did I make that statement about his grades being at a minimum? Now I have to follow-through with what I said. No more wrestling, no varsity, no state tournament. Done. Bummer.
I was desperate. He was disappointed. I asked permission to meet with all of his teachers. They were great. We reviewed his work and looked at where he could improve. They were hopeful, I was hopeful, could he become hopeful? We went to coffee and charted a new course. I dug in and began to work with him on his organizational skills. I am ADD, ADHD, ABCD, and know that the apple didn't fall too far. We worked on patterns, habits and handwriting. It was a pain, it was hard work, and I felt like a nag.
And then some things started to change. A twinkle of a positive grade, getting assignments turned in, studying for tests, and getting excited about learning and doing well became contagious. The ball of momentum had begun. Could it roll enough toward him gaining success? Could he reach that goal and get the iPad2?
Grades came out this week. Three key grades were going to make everything. Geometry was the first. 80.09%. B-. His last homework packet and final had brought his grade up. One down, two to go. Honors Chemistry (I don't remember even liking regular chemistry). He sent me a text, "1000/1000 on my portfolio." 88% on his final resulting in 81.9%. Wow! It's actually happening. Could he really pull this off?
The last grade would be the most difficult–from a C- to an A. This is the teacher that he doesn't really like. He doesn't believe she cares, and so all year it's been a struggle to get him to understand, "playing the game."
Yesterday afternoon, my son pulls up his grade for World History. At this point, I am almost in tears of excitement for how everything has come together, and while a nice idea, didn't actually think it would happen. He sees his grade, and there it is… A-. He runs around the house yelling, screaming, and bouncing off the walls. I am so proud of him that I am in tears. What a journey, what an effort, what an amazing life lesson for both of us. Yep, I am excited to loose $500 to my son, whom I am very, very proud of, for learning some life lessons and putting them to action.
He is on cloud nine as he experiences what it's like to his goal (and get an iPad 2).
The transferable lessons:
1. As I've heard Doug Fields share, "Teenagers live up or down to your expectations."

2. I didn't give up on him. I talked about some of his gifts and strengths being things that I struggled with, and came along side him to share in the pain, and joy of providing support and structure.

3. I invested time with him, and spent a lot of time talking with him as we both walked this journey together.
If you don't have teenagers, you might not understand nor share in my excitement. It's a big deal. Forget a Father's Day gift… this was it.
David S. Peck is the Associate Vice President of University Relations @ Azusa Pacific University. He's a soon to be PhD from USC and he Twitters @Dpeck0404
Question: What do you think? Should parents "reward" their kids for grades? What did your parents do? Was it effective? Share your thoughts HERE.