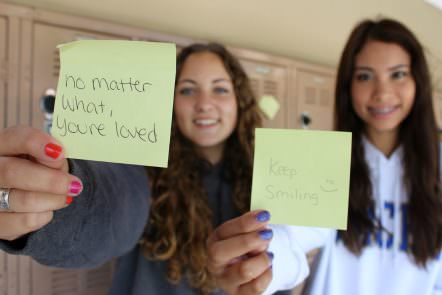 Do you remember the post a while back about our student leaders doing a special school project with Post-It Notes? You can read about here if you missed it, and it was so cool to see our local Patch put up a story about it, too! Yeah!
On the 12th anniversary of the terror attacks of Sept. 11, 2001, Santa Margarita Catholic teachers and students arrived on campus to find their school had been vandalized.

By kindness.

Lockers weren't tagged with spray paint but with Post-It Notes, each one with an inspirational, encouraging or personal message handwritten on it. Those responsible were unknown to the school's staff, which really wanted to know who had been busy while the campus was empty. The culprits were eventually found by sheer coincidence, according to Jaimee Lieske in the communications department.
JG