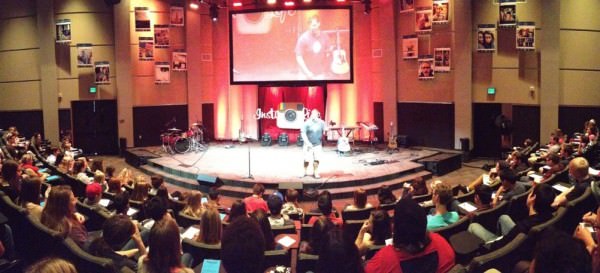 One of my favorite parts of my job is helping put together the weekend services. There is something so incredible about being able to help set up an environment for students to come experience and express Christ. A huge part of that is putting together the stage design. I tag-team our stage with my teammate, Travis. When we started, we had no experience with stage design and had NO IDEA what we were doing. By the grace of God, we have been able to figure some things out and manage to pull off some things we are pretty excited about. Here are a few of the things I have learned along the way:
Always be thinking about repurposing. I think a huge struggle can be figuring out how to come up with new and fresh designs while staying within a budget. One of the best ways to do so is repurposing everything you can. Whenever you start coming up with the concept for your next stage, be thinking about pieces that you can reuse or repurpose later. For example, we bought a ton of those cool Edison lights to hang all over our room for our last series (picture below). But when we bought them, we knew we could use them for a variety of other things down the road. Just yesterday, we decided to use them to build signs for our next series!
Know your resources. Don't buy anything if you can borrow it! Travis and I keep a rough idea about what supplies other departments in the church have. We know that our college ministry has some really cool worship experience pieces, our junior high ministry has some really good photo booth supplies, and we know the date that our adult services change their set and give away their pieces. We recently put together a prayer experience pretty last minute, but we were able to make it look well thought out because we were able to use pieces that were just lying around the church (picture below. Cross was something we borrowed, the pallets we found by the dumpster, and the trashcan we had in a closet). Also, keep track of resources that your volunteers can offer. One of our volunteers owns a trophy shop with her husband and cuts us some huge deals whenever we need anything.
You are capable of a lot more than you think. Building is not one of my gifts. Not even close. So if you're like me, the idea of doing set design seems impossible. But you are much more capable than you give yourself credit for. Just take the right steps. Do your research and find out how things are done. Ask for help from your more handy friends, but don't avoid set design just because you don't know how to do it. The truth is, many of us don't know how to do it—we just figure it out. Here is our next concept for a series called "GO." Travis and I don't really know how we are going to pull it off yet, but we are excited to make it work.
Here is a link to a website that we browse a lot for inspiration. It is full of pictures of other church's set designs!
Colton