Who are you?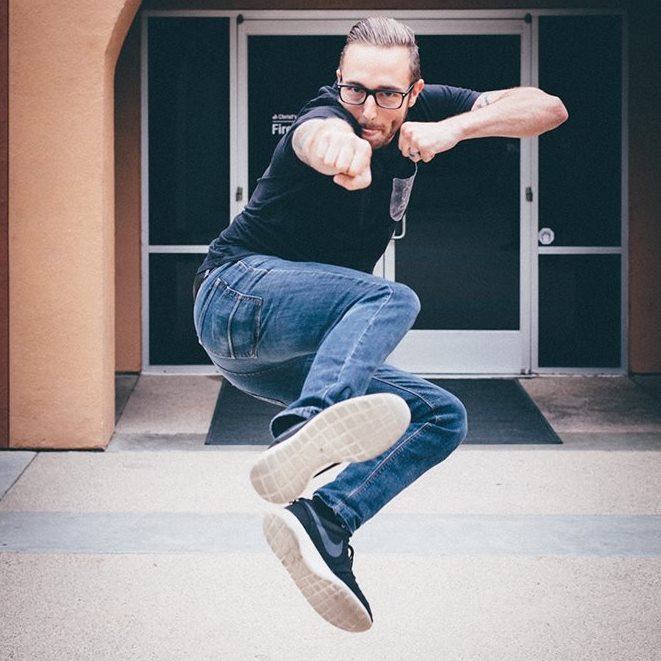 My name is Justin Knowles and I have been in youth ministry since I was 15 years old. It all started when I was challenged to lead a Jr High small group—that changed everything. I have been working in full-time youth ministry for the last 8 years. I went to Azusa Pacific University for youth ministry, worked in the High School Ministry at Saddleback Church for a bit, and now serve as the Lead Next Gen Pastor at Christ's Church of the Valley in San Dimas, CA. I get to oversee Jr High, High School and College Ministries and I love it. I get to work with a great team and they kill it.
I have been married for 3 years to Kristin, and though, we don't have any kids yet, but we do have a fur-baby named CATalie Portman.
You are a valuable volunteer member of the DYM Team. What do you do for them…and why?
I am the gate-keeper of all products. When you submit a resource, it goes through me first. I, also, facilitate the DYM Facebook group (if you are not a part of, you need to be!) and write on the DYM blog a few times a week
It's a lot, yes, but I do it because I love DYM. I love what it's about and what they want to do to help youth workers. I too have a found a passion to help youth workers do what they do better. I love talking and connecting with everyone, finding out what they are doing and what they are excited for, and even writing down what I am learning myself with the hope that it would speak to someone else. I don't work for DYM, but I volunteer my Friday mornings to go through all product submissions and answering several "where is my product and when is it being released?!" emails. (So thanks for being patient with me!)
You have submitted some great resources to DYM. Which is your favorite and why?
I think my favorite resource made is the series "That's What He Said". Talking about the things Jesus said challenges students to move towards Him and His words. It was a powerful series for our ministry, and hopefully it can be for your group as well. Plus, it's a play on a quote from one of my favorite shows of all time: The Office.
Anything else DYM members should know?
I want them to submit their content, because it makes a huge difference. It really does. The things God uses in your ministry to move students, could be used in others' ministry to help even more students. Submitting your resources to DYM is a sweet opportunity to expand your spiritual influence beyond your own group. So send us your resources! Read more about our submission guidelines and then get to submitting!
The DYM Staff is grateful for all of Justin's hard work and dedication to helping us help youth workers win. Check out "That's What He Said" here. (it's not only a teaching series—it includes great small group discussions and a game! It's a full package.) Check out more from Justin here.