Day 1: click here
Day 2 & 3:
The next morning (Saturday) we met up with Dan at Perry Hall Baptist in Baltimore County. It's always great to see a youth pastor who has so much love and respect for his senior pastor (way to go Dan). I guess it might have had something to do with the fact that Dan's pastor has degrees from Liberty, Princeton, Harvard and Yale! Can you believe it? Would you be intimidated to youth ministry there? Not Dan! I had a great time talking to his pastor and touring his library–in addition to the church.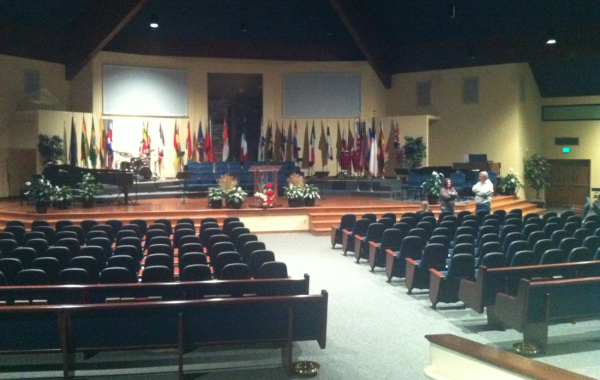 From there we headed to lunch at the Chap's Pit Beef, which of course was featured on Diners, Drive-ins and Dives. I had an amazing meal with great conversations.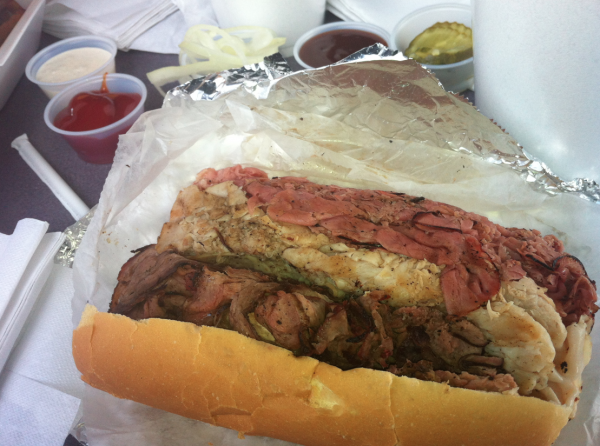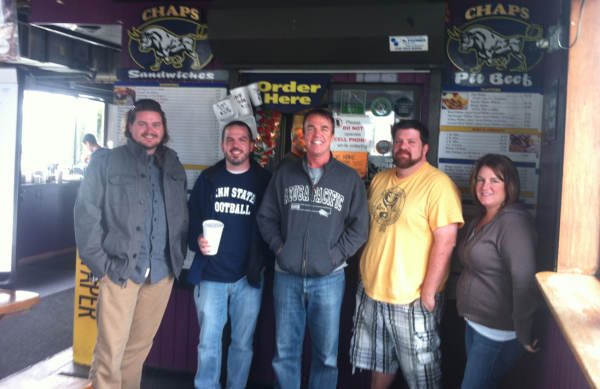 The good news was that this meal was again sponsored by Youth Specialties… the bad news was that this great dive shared the parking lot of a strip club (which isn't a good place for the church van to be parked).

In typical road trip meets youth ministry style we spontaneously called on Chris and asked him for a tour of Olgetown Baptist. It was an incredible facility located in the hometown of the University of Delaware Blue Hens (seriously, Blue Hens). Chris was gracious to us and gave us a ton of time considering his wife was at home waiting for their twins to arrive any moment! Cool church that had a combo of traditional and recent contemporary space.
We drove up the highway and had a fun connect with Matthew McNutt at his church Brandywine Valley Baptist Church. What a beautiful, new sanctuary!

I got a good laugh at the placement of Matthew's office–right next to the custodian's closet (typical).
We can also thank Matthew for the indigestion that night–Lucky's Coffee Shop was the place where we met up with some new youth ministry friends from Southern Delaware. Not sure the food was worth the hour and half they had to drive to be there, but the conversation was definitely worth it.
As we finished up another long day we were reminded how youth workers instantly have camaraderie because we genuinely understand each other's call, even when no one else does. It really is a blessing to journey with so many of you; whether it is through this blog, the podcast, at the National Youth Workers Convention, conferences like SLC, or even in unplanned moments like these on the road trip.
Day 3:
Sunday morning we woke up late enjoying the fact that none of us HAD to be at church, lead a program, or teach a message. You know a real Sunday off! We casually made our way to Branch Creek Community Church outside of Philly and met up with youth ministry veteran Mike Harder. How is it possible two people can serve in such a "small world" of youth ministry and our paths never crossed? This church has the "it" factor and has the strongest possibility for us to host our Student Leadership Conference (still finding out if it's possible). But, if it is possible, this is the place! They have everything! We could "grow into the space"…plenty of meeting rooms…gathering spots…huge grass areas. It was the last church we visited and it had everything. We should know this week.

Probably the best meal of the trip happened at Tony Luke's (yes two first names) in South Philly. Delicious, authentic cheesesteaks – (with whiz and onion, thank you). Again we were surprised and honored at the youth ministry friends who showed up for lunch. We even met a double zero podcast (that won't make sense to anyone who doesn't listen to the YouthMinistryGarage Podcast). Again, meals with youth workers are never short for conversation.


After all the miles, laughs, friends, and some awkward moments (for another blog post at another time) we still have not landed on our East Coast location. There was so much more to consider than just can this place hold 800 – 1,000 people. Things like are there cheap enough hotels nearby, are there good places to eat, if a youth group comes to the conference what kinds of things are there to do in the area, etc. Our goal is to try to keep the conference as cheap as possible ($99 until Dec 1st–be sure to save your spots–prices will increase after Dec. 1) and we want the whole trip to be cheap for youth groups so these details are important to us. So stay tuned, we hope to announce the location in the next few days.
Question: If you're within a few hours of one of these locations, would you be interested in bring some of your leaders (or potential leaders) to our Student Leadership Conference?