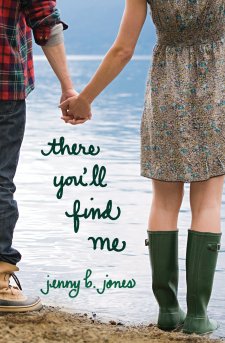 I've read several books of Jenny Jones, a well-known author of Christian young adult fiction. There You'll Find Me
is a typical Jenny Jones book: a well-developed main character, funny characters, multiple plotlines, and a good, balanced Christian content without being too preachy.
The main character Finley is trying to deal with a big loss: the death of her brother Will. In an attempt to find answers and restore her relationship with God, she spends time in Ireland trying to re-trace her brother's footsteps when he spent time there as well. On this journey she meets Hollywood film star Beckett Rush, who's intrigued by Finley and the fact that she doesn't immediately swoon at the very mention of his name. Beckett has his secrets too, including a private life that doesn't resemble his very bad public reputation. Finley has to deal with some mean girls and a particularly mean granny, new friendships and relationships, while trying to grieve and let go and find herself again.
I thought Finley's journey, both spiritually and romantically, was well plotted and developed naturally. Jones has a great sense of humor and the interactions Finley has with Beckett and others are funny indeed, yet true to Finley's character. The subplot where Finley tries to help an adopted granny was exceptionally well done, a great way to share some deep spiritual truths. Personally, I thought the mean girl Beatrice plot was rather weak and a bit cliché, especially Beatrice's reason for being mean, but so be it.
All in all, this is a great read for the girls in your youth group, as are Jones' other young adults books by the way (she has recently written some Christian women's fiction as well, these may be too mature for young adults!). So if you want to recommend some well-written Christian fiction to teenage girls, I'd recommend Jenny Jones. But I enjoyed the book as well, so you yourself might too 🙂
(I was given this book free as part of the Booksneeze program but was under no obligation to give a positive review)