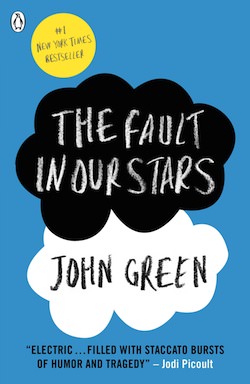 [This book is part of our
Reviews of the Top 100 in Teen fiction
n]
The Fault in Our Stars
by John Green (who has several books in the Top 100) ranks number 4 on the NPR Top 100 of best teen fiction and I can see why. It's an emotional, heart-breaking tale of two teens battling cancer.
Hazel Grace meets Augustus Waters at a Cancer Kids Support Group. Both are living with cancer, or trying to live as it turns out. And these two fall in love and in doing so, experience life deeper than many adults do. They're funny in a sarcastic way and their outlook on life rings true, for instance their wry notice of 'cancer perks', special stuff they get to do just because they have cancer.
There are many realistic characters in the book, like Augustus' friend Isaac (also a 'cancer kid') and the parents of both main characters. I did not care for the Peter van Houten character, a writer Augustus and Hazel visit in Holland because his book has touched them both deeply. He was over-the-top mean and even though there was an explanation for it and it fit the theme of the book ('We all want to leave a mark, but the marks humans leave are too often scares'), I felt it was too much.
It all sounds like a really depressing plot for a book and to be honest, I had to sort of motivate myself to read it. But I'm glad I did. Even though cancer is a theme in the book, this book isn't about cancer. It's about love and life and dying and it tackles these themes in a touching way.
Yes, both characters are very mature or their age and the discussions they have are very meaningful and philosophical. But John Green does a great job of making it fit the book. The central message of the book makes a great discussion starter with mature teens (high school students and the more intellectually inclined ones at that), for instance about the meaning of life.
What I didn't know is that my home country of The Netherlands plays a part in this book, Hazel and Augustus visit there and spend some great days together. I have the unique perspective of being able to say that it was all portrayed accurately, with minor exception of a misspelling of a name.
As for language: there's some pretty strong language in the book. The F-word is dropped repeatedly and the third commandment is broken a couple of times. The latter bothered me as there wasn't a real need for it. There's also a sex scene (through not graphically described) and sex is mentioned several times.
God is mentioned and discussed in the book. Augustus' parents are Christians and are described as loving, if somewhat on the cheesy-inspirational side. The same goes for the Cancer Kids Support Group which takes place in a church ('The literal Heart of Jesus') and is lightly based on inspirational principles. Both main characters talk about God and His existence in a realistic way, but of course not from a Christian perspective. Students may recognize the feelings of opinions of their classmates and friends in the discussions though.
Would I recommend The Fault in Our Stars
to students? Yes, but to very specific students who I think could handle the content. I would warn them about the language and definitely do a follow up in personal talks about the themes discussed.