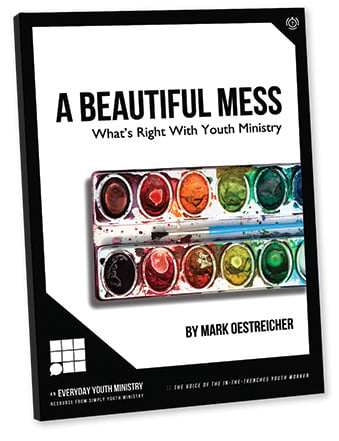 Mark Oestreicher (across the globe known as Marko) has written a very un-Marko-ish book. His usual style is to provoke, address, and criticize. In a loving manner, absolutely, but he's usually on a crusade of some kind to point out what needs to change in youth ministry.
In this new book A beautiful mess he is on a crusade as well, but an entirely different one. He actually wants to encourage us youth leaders, that we're doing an awesome job. He wants to show us what we're doing right in youth ministry. How very, very encouraging for a change!
He shows a few trends he thinks are making youth ministry headed in the right direction, like theological reflection and the integration of teens instead of the isolation they often face in church and in their whole world.
Now Marko wouldn't be Marko is he didn't throw in some very sharp observations here and there like this one:
What we don't need is to replace one technology ("programs are the answer!") with another technology ("post-programming is the answer!").
There's, as always, food for thought in his writings, the kind you'll need to chew on for a while.
As I read the book (it's a quick read, I actually read it on a hour-and-a-half flight home from London), some parts felt really familiar. That proved to be correct, parts of the book have been published as blog posts on his blog. I'd still recommend reading the whole book though, because of the bigger picture it will give you.
Expect no easy solutions or very practical stuff you can apply in your youth ministry right away in this book, but do expect to be encouraged, affirmed and of course: challenged.