When you look at the ink blot above, what do you see? What do you focus on? The blot? The space around it? What?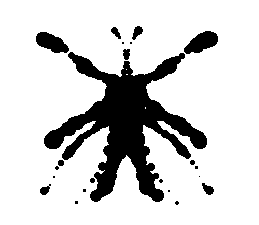 In prayer I think we sometimes focus on all of our problems and not the widespread mercy of God. For example, if there was a blank white page and there was an ink blot right in the middle of it, because the page was blank, the ink blot will stand out to us and that will be the thing that we focus on. But the ink blot doesn't take over the whole page, its just a small section compared to the rest of the page. There is still a lot of white on the page. The ink blot is our sin, and the rest of the page is God's mercy. In prayer we only focus on the ink blot, our sin, and that's the one thing we focus on. The rest of paper, which is far bigger than the ink blot, is God's mercy, and that is what we should be focusing on. We always pray for and focus on our sins, which is only tiny compared to the rest of the page of God's mercy. THAT'S WHAT OUR PRAYER SHOULD BE FOCUSED ON, THE VAST MERCY THAT SURROUNDS OUR SIN.
Proverbs 28:13
People who conceal their sins will not prosper, but if they confess and turn from them, they will receive mercy.