Powerhouse behemoth WalMart is tapping into the "American Idol Genre" by creating an opportunity for the "little guy" to become famous. They call it "Get On The Shelf" and they're offering one product the opportunity to be sold on WalMart's shelf for a year. But, there's just one winner.



Currently, one of the products in the contest is called HumanKind Water and 100% of their proceeds go toward helping the water world's clean water crisis.
BAD WATER kills more children daily than AIDS, Malaria, Measles and Warfare COMBINED.
Here's why I'm thrilled about this:
1. The brains behind this little water company (TJ Foltz) is a youth worker.
2. TJ's had his life changed in Haiti when he saw the effects of bad water.
3. He's running this company with some buddies–completely volunteer.
4. I think youth workers & their youth groups can actually make a difference.
5. Most junior high & high school kids won't/can't give money to solve the water crisis, but they will text.
6. We've already made a difference! This is what TJ wrote me a few hours after I Twittered this:
"Hey Doug, Thank you SO MUCH for all you've done for Humankind Water. You tweet and we are instantly INUNDATED with churches and youth groups wanting to get involved."
7. I love TJ's passion. He was bold enough to track me down during a Tweet-Up in Philadelphia last week and sold me on his vision. I'm in!
8. I've seen the effects firsthand on children in developing countries who have no clean water.
Here's my simple ask:
1. Please vote (see instructions below).
2. Ask your youth group to vote.
3. Use your social channels to bring attention to this.
That's it!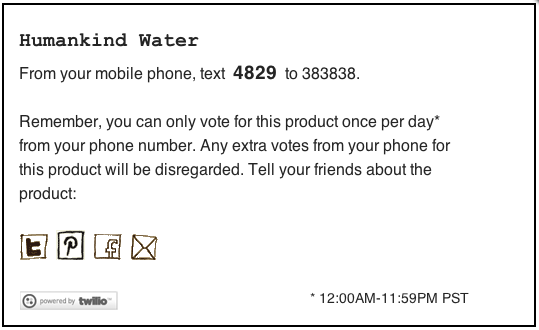 Thanks friends! The thought of WalMart buying millions of bottles in a year and the proceeds going to clean water is a cool idea. A simple idea. A doable idea. Thanks for helping this risk-taking youth worker.
Here are some links to check out:
WalMart's Get on the Shelf Contest
HumanKind Water's page on "Get on the Shelf"
HumanKind's website & video
My short (1:52) video interview with TJ Foltz
Question: Will you join us in trying to make this happen? Let us know here.