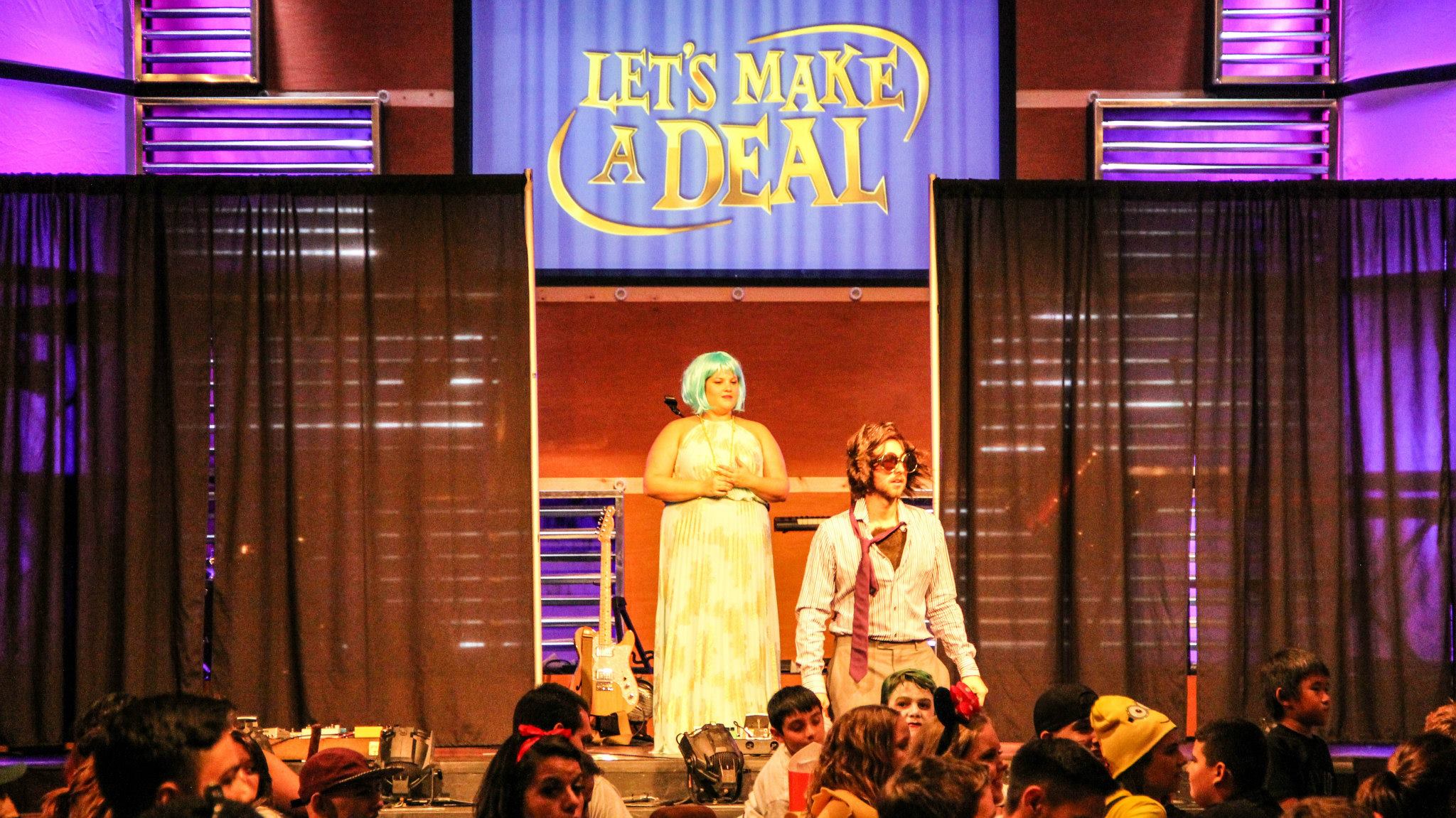 The above image is a little glimpse of our "Let's Make a Deal" night in our ministry. It was such a fun night where immediately after service we played a live game show and went all out for it. If you have ever seen the
show on TV
, the audience dresses up in ridiculous costumes and they give away a ton of different prizes. It's perfect for youth ministry. We played it on the week of Halloween so everyone came in costumes and it worked amazingly (though you can play it any time if you promote it enough). It was so fun. We made videos to promo it with our host (me in costume) and I hosted the night in character all night long. We went all out with lights, game show music, announcers and a "Vanna White".
There can be a few variations you can do but we tried to make it as true to the show as possible. We had 10 rounds, half of them had big prizes and half of them had ZOINKS (dummy prizes). We were able to map out how each round went ahead of time because we knew students didn't know the prizes but the staff knew what was behind each curtain each round. It's fairly simple.
Some of the prices consisted of:
All dummy prizes (ZOINKS) were all from the $1 bins at Target.
Razor scooter
Bubble machine
Clip on JBL speaker
Beats by Dre headphones
iPad mini
Apple TV
Free trip to summer camp
The game went along as follows:
There were 10 rounds total. Short and sweet.
Contestants were based on the best costumes.
Stage host would guide the game and make deals while another one of our pastors would choose the contestants and run around with a hand help mic.
We would give each student $10 in Starbucks gift cards to start off and they had the choice to keep the card or make a deal.
On stage we had two curtains, each with something behind it. They had to choose to make a deal or keep the card, if they wanted to make a deal, we would look behind curtain #1.
When it is mapped out well, you can make 10 rounds work.
If students wanted to make a deal, we would open up the curtain and it could be something less than $10 (ZOINK) and the round would be over or it could be one of the prizes we got to give away.
If they were to pick to make a deal and they won a prize, they had the option to make another deal and a chance to loose everything or have a chance to win one of the bigger prizes (iPad etc.)
Only one round had the ultimate prize of free summer camp if they decided to go for it all on the right round (which a student did and it was incredible, everyone went crazy!)
If you watch the show, you can figure out what would work best for your set up but it was so much fun and the students loved dressing up and being a part of the game show experience.