Now you have to understand, I am not one to promote my own things on this site. But I don't think this falls into this category per say. I only bring this up because a friend of mine told me they have used a product of mine for something I did not even intend it to do, but he said works really well. So I thought I would share.
I have been doing a series called "Teaching Outlines" were I just pull out Biblical truths from chapters of a certain book and create a basic teaching outline where you can place your own context of ministry within it and still get Biblical points from it. You can check out these outlines HERE.
Here is the product definition for this Sermon/Series:
This is the book of Colossians teaching outlines. It will give you a general outline of the main points and passages from each chapter with helpful notes throughout that gives you a solid outline that allows you to fill it in with your spice, stories and context for ministry. It is a great deal – only $1 a chapter!

Each teaching outline includes:

Suggestions for a good opener or illustration

2-4 main points from the chapter

Passages of Scripture

Action Steps

Thought for the Week

Questions about the study for after
Here is what my friend has been using it for: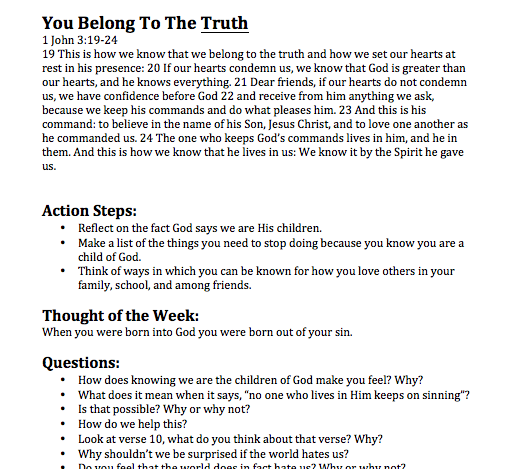 The picture above is a screen shot from one of these outlines. He has been using them for his small groups. He has been printing out the notes, making copies, and giving them to his small group leaders so they have a guide to cover all the big points in each chapter. There is practical application, a thought for the week. and discussion questions for after finishing the chapter.
He said it has been a great resource for his small groups as a guide to go through each of these books in a way that is easy for his leaders and students to understand but get great Biblical definition and discussion about what it is teaching in each chapter. He uses them as a guide to walk them through the particular chapter in a practical way.
Now, take it or leave it (I hope you take it ha!), but I thought I would share of an alternative way to use this resource. You get two in one! It's a steal!