Here's a bold statement: Every day girls are being told lies about who they are and every day girls are believing these lies.

These lies that girls believe determine the way they live.
Over the next few post, I want to take a closer look at the top 5 lies that girls believe about themselves and the world they live in.
Lie #1 – My Body Defines Me
Spend a few minutes watching TV shows that target teen girls or pick up a teen magazine and you'll be overwhelmed by the messages coming at young girls about their bodies.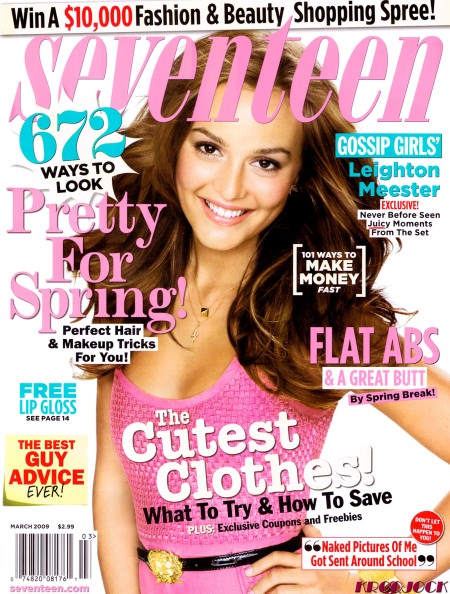 (Don't even get me started on this cover and what is wrong with it!)
Studies show that girls get depressed within 3 minutes of looking at a "fashion" magazine.
92% of girls want to change at least one thing about their bodies.
(This was painted on a fence in my neighborhood. Seriously, everywhere they go…there are messages about their bodies.)
The University of Colorado did a study of teenage girls and found that most feared "being fat" more than cancer, nuclear war or the death of their parents.
Why the fear?
As far as the the world is concerned, a girl is her body. Talented and brilliant women are defined by their weight and appearance…Adele, Christina Aguilera, Condoleezza Rice…to name just a few.
The standards are unrealistic and unattainable without the help of computer touch-ups. It is impossible to feel like you will ever measure up.
If my body defines me…and my body will never measure up…than I will NEVER measure up. The lies we believe define the way we live. If girls believe this lie it can lead to "self-harm" behaviors or the pursuit of approval for their bodies in inappropriate ways.
What can we do? How can we be different?
1. Tell the truth
If the world's lie is that their body defines them- we tell the truth- that they are so MUCH more than just a body. That who they are is really about what is in their heart, soul and minds. We counter the lie. We acknowledge the lie…and we tell the truth. Once a year, we try and do a girl only service or event where we can address these lies…we spend a majority of our time on this topic.
2. Be aware of your words
We need to be mindful of the way we casually throw words around in front of our students. Words like fat, hot, skinny or ugly can be painful reminders to girls that they don't measure up. Let me be clear…most girls…even the most petite ones, view themselves as fat and ugly. Be careful how you use your words.
3. Redefine Beautiful
I think churches, especially youth ministries, should redefine beautiful. Let's start talking about the beauty of a servant's heart or a friendly smile. The words we use to define it MUST BE ATTAINABLE for everyone. Make it attainable and them help them attain it!
4. Include parents in the conversation

Girls need to hear the truth in their homes. Most parents want to help but they may not realize the full pressure girls are facing each day. We can help girls by including their parents. Help them understand by providing resources for them. Create opportunities for them to have important conversations.
Every interaction with girls is another chance for us to counter the lie that their body defines who they are by speaking the truth in love. What about you…what are others ways you have helped girls overcome lie #1?