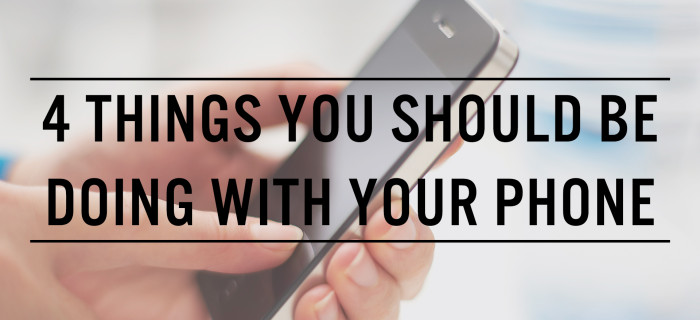 Much like a teenage girl, I'm attached to my phone. Unlike a teenage girl, I'm familiar with the boundaries I should have with it. But still I use it for EVERYTHING. I'm always on it, not just for personal tasks, but for ministry tasks as well. Now my phone helps me out in countless ways in ministry but here are four apps and features that have really been helping me out recently:
Group Me– This is a group texting app that is really unique. It allows you to text people that have all kinds of phones… even flip phones! I've had struggles with other texting apps: iPhone required by all participants, smart phone in general required by all participants, only allows for one way texting, etc… so texting my small group or volunteer team never seemed to work like I wanted it to. What I really like is that the text thread that the app creates displays the name of the sender of each person in the group. So no more group texts saying, "Who's number starts with 704?"
Over- If you have an advertisement to make and don't have a graphic design bone in your entire body, than this is for you. In a nutshell, the app allows you to put words on any picture saved on your phone. Students have made this app (or others like it) famous by putting cliché quotes over sunsets and kittens, but you can redeem the app by using it for ministry! I used all the time to make advertisements for our ministry's Instagram account. While it isn't a total substitution for a graphics guy, it will help you make ads that look clean and professional.
Find My Friends– This iPhone exclusive app is a GPS tracking app, meaning it allows you to see exactly where someone else is. Now not just anyone can see your location, the app allows for you to pick and choose who has the permission to see where you are. This is the perfect app to use when traveling to camp or any other event that requires caravanning. Since we used a few buses to get to camp this year, Find My Friends made it easy to track where some of them were, allowing us to easily track where everyone was without the endless text updates.
Encouragement Photo Album– This one isn't an app, just a cool idea. When I first started in ministry, my mentor told me to keep all of the encouraging notes in a box so that, when I get discouraged, I can go through them and remember why I do this. I loved the idea, but had no clue what to do with texts and emails. The solution: screenshot all of the texts and emails and save them into an album solely dedicated to encouragement. Simple. Easy. Free.
What are some apps that make ministry easier for you?
-Colton